MSY Lagniappe K.R.E.W.E Volunteer Program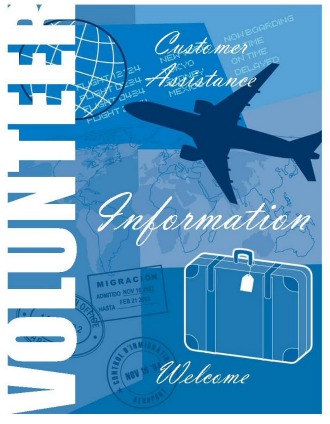 New Orleans is one of the friendliest cities in America. Louis Armstrong New Orleans International Airport is known for providing southern hospitality with a dash of local lagniappe. On any given day, a first time visitor to New Orleans might walk down a gateway to encounter a resplendent display of Mardi Gras Indian costumes, hear the unmistakable metronome strains of a brass band, and inhale the irresistible scent of fresh beignets dusted with sugar wafting through the air.
Our Knowledgeable Respectful Employees Work to Excel (K.R.E.W.E.) volunteers are also on hand with a smile to ensure that every visitor's experience at New Orleans International Airport is pleasant and memorable.
New Orleans International Airport is currently seeking volunteers who would like to join the MSY Lagniappe K.R.E.W.E.  Help us by becoming a hospitality and culture ambassador for the region.  Volunteer duties for MSY's honorary K.R.E.W.E. culture bearers include:
Volunteer duties include:
Meeting and greeting passengers and visitors with a welcome smile and beads;
Assisting passengers and visitors by directing them to the correct personnel, concourses, airlines or amenities;
Answering travelers' questions and providing information about New Orleans and the Greater New Orleans Metro Region;
Providing assistance to travelers with special needs or accessibility challenges; and,
Reporting problems, issues, or concerns to the proper authority.
Volunteers are stationed strategically throughout the airport, particularly along concourse arrival points to greet and direct arriving and departing passengers. Volunteers who are bilingual and are interpreters of American Sign Language are strongly encouraged to apply.
Volunteers can be found at the Airport 7 days a week from 5AM to 9PM. The program was launched in 2011.  Since that time, more than 26,000 K.R.E.W.E. volunteer hours have been donated.
Scheduling and Availability 
K.R.E.W.E. Ambassadors have the ability to update their availability and schedules using a web-based service hosted by shiftplanning.com.  The online service provides flexibility for our Ambassadors to view available shifts as well as notify the management of any changes in their availability or preferences.
We would like to encourage volunteers to donate an average of 20 hours per month using this system.  However, donations of all increments of volunteer time are always welcomed.
Join the MSY Lagniappe K.R.E.W.E. today!
If you would like more information concerning the MSY Lagniappe K.R.E.W.E. Volunteer Program, please call Customer Service at 504.303.7790 or download an application download an application here.

Location
1 Terminal Drive
Kenner, LA 70062
Mailing
P.O. Box 20007
New Orleans, LA 70141
Hours
Louis Armstrong New Orleans International Airport is open 24 hours daily, including holidays.
Administrative office hours: 8 AM to 5 PM (M-F)
©2019 Louis Armstrong New Orleans International Airport|All rights reserved.|